Universal Studios Home Entertainment (formerly Universal Studios Home Video, MCA/Universal Home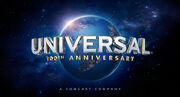 Video and MCA Home Video) is the home video division of Universal Pictures. The company is owned by NBC Universal, the entertainment division of General Electric and Vivendi.
The company was founded in 1978 as MCA DiscoVision , with the Beta and VHS label, MCA Videocassette, Inc., in 1980, with the release of films on Beta and VHS, including Jaws, Jaws 2, and 1941. In late 1983, both the Laserdisc sister label MCA Videodisc and the VHS/Beta label MCA Videocassette were consolidated into a single entity, MCA Home Video, alternating with the MCA Videocassette name until 1984. In 1990, with the 75th anniversary of Universal Studios, it became MCA/Universal Home Video, alternating with the MCA Home Video name from 1992 until 1995. The company later went by various company names, including Universal Studios Home Video (1998-2005), and Universal Studios Home Entertainment (2005-present).
In 1980, they released two '50s 3-D motion pictures, Creature From the Black Lagoon and It Came From Outer Space, in anaglyphic format on Beta and VHS.
This company was the video distributor for DreamWorks titles until DreamWorks was sold to Paramount/Viacom in 2006, at which point Paramount took over distribution. After Viacom sold DreamWorks to Dentsu in December 2008, Universal Studios Home Entertainment started distributing DreamWorks films on video again in January 2009.
In addition to DVDs, Universal was a major supporter of the HD DVD format until March 2008, when Toshiba discontinued manufacturing of HD DVD players. Since July 22, 2008, Universal released Blu-ray discs; it was the last major Hollywood movie studio to do so. The label's first Blu-ray releases were The Mummy, The Mummy Returns, and The Scorpion King.
In 2009, Universal Studios Home Entertainment acquired exclusive US rights to Pokémon films starting with Pokémon: Giratina and the Sky Warrior.
Universal is the American video distributor for Summit Entertainment releases and Lionsgate releases.
Internationally
In the Netherlands, Universal distributes most DVDs of films released theatrically by Independent Films, although this is now limited to catalog releases, as more recent films are now released though Warner Home Video.
It also distributes Alliance Atlantis DVD titles in Canada, most of the Republic Pictures theatrical library in the UK, and most of the Carolco Pictures library in Australia, Latin America, and several European countries (along with other StudioCanal properties). In the 1980s until the late 1990s, they also distributed tapes released by Cineplex Odeon in Canada.
Universal previously distributed its films on video internationally through CIC Video (a division of Cinema International Corporation, later United International Pictures) alongside Paramount Pictures. Following Universal's acquisition of PolyGram in 1999, PolyGram Video (which had international operations) was folded into Universal.
The international operations are a joint venture with Sony Pictures Home Entertainment, a carry-over from the PolyGram days.
Community content is available under
CC-BY-SA
unless otherwise noted.