Welcome to the Tremors Wiki, the Tremors movie encyclopedia that anyone can edit.
About • Tutorial • Help • New pages • New files • Categories
Featured article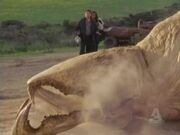 First appearing in Tremors 3: Back to Perfection and recurring throughout the following TV series, El Blanco was a mainstay of Tremors. Believed to be sterile; he was unable to produce Shriekers. The lifespan of El Blanco (and other sterile Graboids) is unknown, but the time between Tremors 3 (2001) and the TV series (2003) indicates at least two years and possibly longer.
(read on)
Featured picture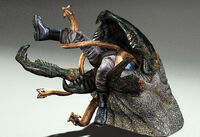 Description: Here we see a typical specimen of the Caederus Americana as it ingests one of its favorite nutrient rich meals.
Community content is available under
CC-BY-SA
unless otherwise noted.