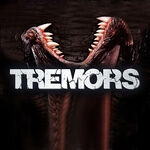 Tremors is an American monster comedy-horror franchise that centers around the attacks of subterranean worm-like creatures, known as Graboids.
The franchise knew its first release in 1990 with the Tremors movie, after which it has spawned six more direct-to-video films as well as the titular television series. In 2016, a second television series was ordered to air on Syfy, and a pilot was shot, but the project was ultimately cancelled.

Tremors: Shrieker Island (also known as Tremors 7 and formerly Tremors: Island Fury) is the latest additional to the Tremors franchise, released direct-to-video on October 20, 2020, by Universal Pictures Home Entertainment.
Directed by Don Michael Paul and co-written with Brian Brightly, the film stars Michael Gross and Jon Heder and takes us to a nature preserve in the Solomon Islands. Now overrun by Graboids, Ass Blasters, and Shriekers, two of the preserve's top scientists recruit Burt Gummer, monster hunter extraordinaire, to eradicate the infestation. While there, Burt picks up a potential new protégé and encounters lost love.
Tremors Wiki is a collaborative community where we aim to keep track of everything relating to the Tremorsfranchise, from characters, to films, episodes, and more. We currently have a total of 259 pages.
We also have a place for getting to know each other and to talk about Tremors in our Discussions. Whether you are here to start editing or to chat with fellow users, you are welcome to sign up for an account!
August 26, 2020/Tremors 7 trailer dropped.

Today, the first trailer for the new tremors movie came out. https://youtu.be/byRjSA5B21Y
March 14, 2020/Tremors 7 leaked onto youtube! (Not really)

The tremors twitter twitted out this message. BURT GUMMER HERE- I'VE TAKEN OVER THIS TWITTER TO WISH YOU A HAPPY BURT GUMMER DAY. ALSO FEEL LIKE I'VE BEEN DENIED SOME CRITICAL INFO. FOUND THIS ONLINE> CAN SOMEONE TELL ME HOW TO TAKE IT DOWN/? ASAP -GUMMER OUT. There was also a video Linked. [it Here!]
December 12, 2019/Facebook Poll!

Tremors 7 has finished filming!
May 17, 2019/Tremors the series is on Youtube!

All of the episodes for Tremors the series is now free on the official tremors youtube channel. [it Here!]
November 26, 2019/New Actors!

Actors, Jon Heder, Jackie Cruz, and Richard Brake have signed onto Tremors 7!
November 13, 2019/Fliming starts!
That 4-12's screeches and roars are just recordings of the raptors from Jurassic Park?
We need editors to help make and expand articles for
Characters
Creatures
TV Episodes
and much more
To write a new article, just enter the article title in the box below or try out The Sandbox to practice editing.