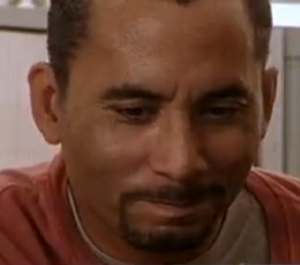 Richard T. Biggs (March 18, 1960 – May 22, 2004) was an American television and stage actor, best known for his roles on the television series Days of our Lives and Babylon 5.
Life
Born in Columbus, Ohio, Biggs attended the University of Southern California on scholarship, studying theatre. He briefly taught at a Los Angeles high school before landing his first major television role, that of Dr. Marcus Hunter on the soap opera Days of our Lives. Biggs played Hunter from 1987 to 1992.
Biggs then landed the role of Dr. Stephen Franklin on the hit science fiction series Babylon 5 (1994-1998), and appeared as the same character in an episode of the spin-off show, Crusade ("Each Night I Dream of Home"). After Babylon 5, he played roles on Any Day Now and Strong Medicine, as well as the recurring role of Clayton Boudreaux on the soap opera Guiding Light.
Biggs' stage credits include The Tempest, Cymbeline and The Taming of the Shrew.
He and Lori Gerber were married on from August 1, 1998 until Biggs' death in 2004. They have two children, RJ and Hunter.
Health and death
Biggs was diagnosed with hearing problems when he was 13, and was partially deaf in one ear, completely deaf in the other. He frequently used his celebrity status to raise money for the Aliso Academy, a private school in Rancho Santa Margarita, California that serves deaf children.
Biggs died suddenly in his home in Los Angeles of complications stemming from aortic dissection on May 22, 2004. He is survived by his wife and two sons.
Work
At the time of his death, he was a regular on the television series Strong Medicine; following his death, his character was killed in an unseen traffic accident. Biggs' final film appearance was in We Interrupt This Program, a short film released as a companion piece to the 2004 remake of Dawn of the Dead on DVD. (In that short film, Biggs' Babylon 5 costar, Bruce Boxleitner, is heard as the voice of the President of the United States.) He was also frequently guest starring on Tremors: The Series as a local scientist. An episode of the Nickelodeon series Drake & Josh, in which Biggs appeared as a guest star (an FBI man), was dedicated in his memory on October 17, 2004. The episode was about stolen "Gary Coleman Grills/MP3 players. For more info on this episode, go to http://www.imdb.com/title/tt0566044/
Community content is available under
CC-BY-SA
unless otherwise noted.