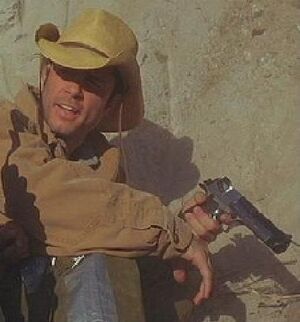 Jack Sawyer is the tritagonist of Tremors 3: Back to Perfection.
He is played by Shawn Christian.
Biography
AKA "Desert Jack", this thrill-seeking man moved to Perfection in the third film to create Desert Jack's Graboid Tour, a tourist business. There were hints of a romantic relationship between him and Jodi, but the relationship apparently did not last, as he did not appear in the TV series. Toward the end of the film, he said he was now "Car Wash Jack", as he had landed a job managing a car wash in Bixby.
He later met Tyler Reed in Vegas and suckered him into buying his old Graboid Adventure Tours in Perfection. This way, Jack had someone to pay off his debts to Jodi and someone to bring live income into Perfection.
Jack was also originally supposed to appear in Tremors: The Series, but Shawn Christian couldn't appear due to a prior commitment.