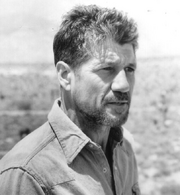 Fred (Earl) was born in San Diego and attended high school in Texas. After graduation, he joined the Air Force, and at the age of 21 decided to become an actor. He studied at the Herbert Berghof Acting Studio in New York and then moved to San Francisco where he appeared in such theatre productions as "Inacoma" and "Angel City."
In 1979, Ward played his first major screen role as Clint Eastwood's jailbreak partner in "Escape From Alcatraz." Since then, he has appeared in the films "The Right Stuff," "Silkwood," "Uncommon Valor," " Swing Shift" and "Secret Admirer," before landing his first starring role as Remo Williams in "Remo: The Adventure Begins."
Ward's other motion picture credits include "Prince of Pennsylvania," "Southern Comfort," "Off Limits," "Big Business," "Carney," "Cardiac Arrest," "Time Rider," two Roberto Rossellini films ("The Power of Cosimo" and "Cartesia"), "Uforia," "Backtrack" and most recently "Miami Blues," (Orion Pictures) which he co-produced. Ward is also starring in the upcoming film "Henry and June," directed by Philip Kaufman.

Freddie Joe "Fred" Ward (born December 30, 1942) is an American actor. He began his career in 1979 alongside Clint Eastwood in Escape from Alcatraz. He is best known for his starring roles in the motion pictures Remo Williams, Tremors, Henry & June, Short Cuts and Exit Speed. Ward also acted in European movies.
Personal life
Ward was born Freddie Joe Ward in San Diego, California, of part Cherokee Native American descent. Before acting, Ward spent three years in the United States Air Force. He was also a boxer, and worked as a lumberjack in Alaska. Ward is divorced from Silvia Ward and is currently married to Marie-France Ward.
Career
Ward became an actor after studying at Herbert Berghof Studio and in Rome. While in Italy, he dubbed Italian movies and worked as a mime until he made his debut in two Roberto Rossellini films. Upon returning stateside in the early 1970s, Ward spent time working in experimental theater and doing some television work. He made his first American film appearance playing a cowboy in Hearts of the West (1975). His first major role came in the Clint Eastwood vehicle Escape from Alcatraz (1979) as fellow escapee John Anglin. He was also notable as a violent National Guardsman in Walter Hill's Southern Comfort (1981).
Other notable film roles include Timerider: The Adventure of Lyle Swann (1982) (written by Michael Nesmith of The Monkees fame and with whom Ward shares the same birthdate), astronaut Gus Grissom in The Right Stuff (1983), the overbearing father in Secret Admirer (1985), the character Remo Williams in the action movie Remo Williams: The Adventure Begins (1985), Earl Bassett in Tremors (1990), American writer Henry Miller in Henry & June, Walter Stuckel in The Player (1992), Earl Edwards in Road Trip and Ronald Reagan in the 2009 French film L'affaire Farewell.
Ward and Peter Coyote both starred in Southern Comfort and Timerider.
Awards
1993: Volpi Cup – Short Cuts
1993: Golden Globe – Short Cuts
2001: Video Premiere Award – Full Disclosure (Nomination)
2006: JTPC Award – Henry & June (Nomination?)
Filmography
Year
Film
Role
Notes
1973
The Power of Cosimo (L'età di Cosimo de Medici)
Niccolò de Conti
TV
1974
Cartesius
TV
1975
Hearts of the West
Sam
1978
Tilt
Quincy M.E.: Even Odds
Crane
TV Episode
1979
Escape from Alcatraz
John Anglin
1
The Incredible Hulk
Henchman/Marvin
2 TV Episodes
1980
UFOria
Waylon Jennings Imitator, Sheldon Bart
Carny
Jack
Cardiac Arrest
Jamie
Belle Starr
Ned Christie
TV
1981
Southern Comfort
Cpl. Lonnie Reece
1982
Timerider: The Adventure of Lyle Swann
Lyle Swan
1983
Silkwood
Morgan
1
Uncommon Valor
Wilkes
5
The Right Stuff
Capt. Virgil Ivan Gus Grissom
6
1984
Swing Shift
Archibald "Biscuits" Toue
9
1985
Remo Williams: The Adventure Begins
Remo Williams, Samuel Edward Macon
4
Secret Admirer
Lt. Lou Fimple
9
Noon Wine
Royal Earle Thompson
TV
1986
Florida Straits
Lucky Boone
TV, Later Cinema
1987
The Price of Life
Short feature
The Hitchhiker: Dead Heat
Luther Redmond
TV Episode
1988
Catchfire
Police Officer Pauling
The Prince of Pennsylvania
Gary Marshetta
Big Business
Roone Dimmick
3
Off Limits
Sgt. Benjamin Dix
4
1990
Henry & June
Henry Miller, Soundtrack
10
Miami Blues
Sgt. Hoke Moseley, Producer
Tremors
Earl Bassett
5
1991
Cast a Deadly Spell
Det. Harry Phillips Lovecraft
TV Event
The Dark Wind
Joe Leaphorn
1992
Four Eyes and Six Guns
Wyatt Earp
TV
The Player
Walter Stuckel
4
Equinox
Mr. Paris
Thunderheart
Jack Milton
5
Bob Roberts
TV News Anchor Chip Daley
1993
Luck, Trust & Ketchup
Himself
Documentary
Short Cuts
Stuart Kane
Two Small Bodies
Lieutenant Brann
Festival event, also TV production
1994
Naked Gun 33⅓: The Final Insult
Rocco Dillon
1
1995
Un bruit qui rend fou
Frank, the sailor
Festival event
1996
The West
Himself (voice)
Documentary
Chain Reaction
FBI Agent Leon Ford
4
Tremors 2: Aftershocks
Earl Bassett
Direct-to-video
1997
…First Do No Harm
Dave Reimüller
TV Event
Best Men
Sheriff Bud Phillips
Gun (TV Series): Father John
John Farragut
TV Episode
1998
The Making of Tremors
Himself/Earl Bassett (Archive Footage)
Documentary
The Vivero Letter
Andrew Fallon
Invasion: Earth (TV series)
Major General David Reece
TV-Mini-Series
Dangerous Beauty
Domenico Venier
16
1999
The Crimson Code
Randall Brooks
2000
The Crow: Salvation
John, the Police Captain
Ropewalk
David's Father
The Chaos Factor
Max Camden
Circus
Elmo Somerset
96
Road Trip
Earl Edwards
3
Jackie Bouvier Kennedy Onassis
"Black Jack" Bouvier
TV
2001
Summer Catch
Sean Dunne
6
Corky Romano
Leo Corrigan
3
Joe Dirt
Joe's Dad
4
Full Disclosure
John McWhirter
Direct-to-video
Wild Iris
Errol Podubney
TV Event
Dice
Gacy/Noah Aldis
TV-Mini-Series
2002
Live from Baghdad
(Archive Footage)
TV Special/Documentary
Enough
Jupiter
5
Sweet Home Alabama
Earl Smooter
1
A.K.A. Birdseye
Sheriff Nolan Sharpless
Abandon
Lieutenant Bill Stayton
7
2003
Masked & Anonymous
Drunk
45
T-20 Years and Counting
Gus Grissom/Himself (Archive Footage)
Documentary
Realizing "The Right Stuff"
Himself
Documentary
"Masked & Anonymous" Exposed
Special Thanks
Documentary
2004
The Last Ride
Darryl Kurtz
TV Event
10.5
Roy Nolan
TV Event
Coast to Coast
Hal Kressler
TV Event
2006
ER
Eddie
TV Series
Grey's Anatomy: What I am
Mr. Denny Duquette, Sr.
TV Episode
2007
Feast of Love
Bat
The Wild Stallion
Frank Mills
2008
Management
Jerry
Exit Speed
Sergeant Archie Sparks
2009
Armored
Ashcroft
L'affaire Farewell
Ronald Reagan
2010
In Plain Sight
Frank Jerome
Episode 3.6
Community content is available under
CC-BY-SA
unless otherwise noted.