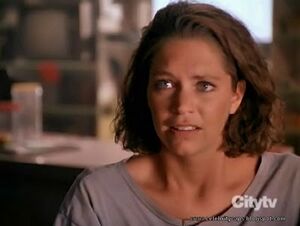 Finn Carter (Rhonda LeBeck) was born and raised in Greensville, Mississippi. As a teenager, she performed in local stage productions before studying with the San Francisco Ballet Company. She also attended the Walnut Hills High School for the Performing Arts in Natwick, Massachusetts.
After high school, Carter studied with the Jose Lemon Dance Company in Washington, D.C., then decided to move to New York City where she studied with Alvin Ailey's American Dance Company. At Skidmore College she began to focus on theatre and transferred to Tulane University for two years of school and community theatre.
Returning to New York, she began a three-year stint on the daytime drama "As the World Turns." Most recently, she starred opposite Anthony Edwards in the film "How I Got Into College" and the television movie, "Dreambreakers."
Finn Carter (born Elizabeth Fearn Carter on March 9, 1960) is an American actress. She is the daughter of former United States State Department Assistant Secretary of State for Public Affairs, Hodding Carter III, and his first wife, the former Margaret Ainsworth Wolfe.
Film career
Carter became well known while playing Sierra Estaban Reyes Montgomery on the CBS daytime drama As the World Turns, from 1985 - 1988 and a short reprise in 1994. She appeared in the television series China Beach as nurse Linda Matlock Lanier, and later as Rhonda LeBeck in the motion picture Tremors. Her film debut was in How I Got into College opposite Anthony Edwards. Most recently she co-starred with Ernie Hudson in the 2005 independent film Halfway Decent. Carter regularly appears as a guest star on television series as well as lead roles on many Made for Television movies.
Carter began her career in the theatre and was a member of The Circle Repertory Company in New York. She created the role of Effie Herrington at San Diego's Old Globe Theatre in Up In Saratoga, written by Terrence McNally and directed by Jack O'Brien. Her co-stars were Mary Louise Parker and Jon Tenney. Her second West Coast theatre appearance was at the Pasadena Playhouse in a revival of Biloxi Blues and most recently she wrote for and performed in an evening of poetry and storytelling at The Altadena Junction .
Personal life
Carter is divorced (mar.1987 - div.1994) from actor Steven Weber, whom she met on the set of As the World Turns when he played the character of Kevin Gibson (from 1985-1986). Her second marriage (mar.1997 - div.2007) also ended in divorce. She has two daughters from that marriage.
Her brother is author and adventurer Hodding Carter IV who lives in Maine. She has two sisters, Catherine (an attorney) and Margaret (an artist), both live in Mississippi as does her mother, Peggy (an artist). She has two stepbrothers Dr.Craig Derian, Michael Derian and one stepsister Brooke Derian.
Filmography
| Year | Film | Role | Notes |
| --- | --- | --- | --- |
| 1990 | Tremors | Rhonda LeBeck | Lead Female Role |
See also
External links