Christopher Lloyd
is the actor that portrayed
Cletus Poffenberger
in
Project 4-12
,
Ghost Dance
and [[Flora or Fauna|Flora or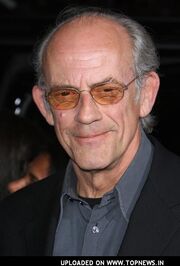 Fauna]] and was supposed to also portray Cletus in the
The Lost Episodes
.
Christopher Allen Lloyd (born October 22, 1938) is an American actor. He is widely known for his iconic portrayals of characters such as Emmett "Doc" Brown in the Back to the Future trilogy, Judge Doom in Who Framed Roger Rabbit, Uncle Fester in The Addams Family and Addams Family Values, Kruge the Klingon commander in Star Trek III: The Search for Spock, and Reverend Jim Ignatowski on television's Taxi. He also starred in the short-lived television series Deadly Games, where he played Jackal, a video game villain brought to life, and also was a regular in the short-lived TV series Stacked, in the mid-2000's.
Lloyd's voice has also made him popular with animation, frequently voicing villains. He currently voices the character Hacker on the animated PBS series Cyberchase. Among other honors, Lloyd has won three Primetime Emmy Awards and an Independent Spirit Award, and has been nominated for two Saturn Awards and a Daytime Emmy Award.
Personal life
Lloyd was born in Stamford, Connecticut, the son of Ruth (née Lapham), a singer who was the sister of San Francisco mayor Roger Lapham, and Samuel R. Lloyd, a lawyer. He attended the Fessenden School, a preparatory school in Newton, Massachusetts. Lloyd was raised in New Canaan, Connecticut and Westport, Connecticut where he graduated from Staples High School in 1958.
His mother, an heiress to the Lapham-Texaco oil fortune, donated her family's ancestral home, Waveny Park, to the town of New Canaan.
Lloyd seldom appears in public or gives interviews. Some of his best friends, co-stars and fans who have met him describe Lloyd as a very shy and quiet man. His nephew, Sam Lloyd, is best known for playing Ted Buckland, the lawyer on Scrubs. Christopher Lloyd has been married to writer/producer Jane Walker Wood since 1992; this is his fourth marriage. He is a fan of fly fishing. Lloyd's home was destroyed in the Tea Fire of November 2008 in Montecito, California.
On May 1 2010, he appeared at the Tampa Theatre during a screening of Back to the Future, where he participated in a Q&A.
Career
He began acting by age 14 and started apprenticing in summer stock. He took acting classes in New York City at age 19, some at the Neighborhood Playhouse with Sanford Meisner. He appeared in several Broadway productions, including Happy End, A Midsummer Night's Dream, Red, White and Maddox, Kaspar, The Harlot and the Hunted, The Seagull, Total Eclipse, Macbeth, In the Boom Boom Room, Cracks, Professional Resident Company, What Every Woman Knows, And They Put Handcuffs on the Flowers, The Father, King Lear, and Power Failure.
His first major motion picture role was as a psychiatric patient in One Flew Over the Cuckoo's Nest. However, he may be most remembered for his roles as Reverend Jim Ignatowski, the ex-hippie cabbie on the TV sitcom Taxi, and the eccentric inventor Emmett "Doc" Brown in the Back to the Future trilogy of science fiction films, for which he was nominated for a Saturn Award. He portrayed the villain Maj. Bartholomew 'Butch' Cavendish in The Legend of the Lone Ranger a role he has played numerous times in various spin-offs and incarnations. He also played notable roles as Klingon Commander Kruge in Star Trek III: The Search for Spock, Professor Dimple in an episode of Road to Avonlea, the title role in The Pagemaster, the villain Judge Doom in Disney/Amblin's Who Framed Roger Rabbit, a wacky sound effects man named Zoltan in Radioland Murders, and Uncle Fester in the big screen adaptations of The Addams Family. In 1999 Lloyd was reunited onscreen with Michael J. Fox in an episode of Spin City entitled "Back to the Future IV — Judgment Day" where Lloyd plays Owen Kingston, Mike Flaherty's (Fox's character) former mentor who stops by City Hall to see him, only to proclaim himself as God. That same year, he starred in the movie remake of the 1960s series My Favorite Martian. Also in November 2007, Lloyd was reunited onscreen with his former Taxi co-star Judd Hirsch in the (Season 4 episode) "Graphic" of the TV series Numb3rs.
He recently played Ebenezer Scrooge in a 2008 production of A Christmas Carol at the Kodak Theatre with John Goodman and Jane Leeves. He also recently appeared in a trailer for a fake horror film, entitled Gobstopper, where he played Willy Wonka as a horror movie villain.
Filmography
Year
Film
Role
Notes
1975
One Flew Over the Cuckoo's Nest
Max Taber
1978
Goin' South
Deputy Towfield
Taxi (TV)
Reverend Jim Ignatowski
Emmy Award, Best Supporting Actor in a Comedy Series (1982, 1983)
Three Warriors
Steve Chaffey
1979
The Onion Field
Jailhouse lawyer
The Lady in Red
Frognose
1981
The Legend of the Lone Ranger
Maj. Bartholomew 'Butch' Cavendish
1983
Mr. Mom
Larry
To Be or Not to Be
S.S. Captain Schultz
1984
Star Trek III: The Search for Spock
Klingon Commander Kruge
The Adventures of Buckaroo Banzai Across the 8th Dimension
John Bigbooté
National Lampoon's Joy of Sex
Coach Hindenberg
1985
Back to the Future
Doctor Emmett "Doc" Brown
Nominated for a Saturn Award
Clue
Professor Plum
1986
Miracles
Harry
1987
Walk Like a Man
Reggie Shand / Henry Shand
1988
Track 29
Henry Henry
Who Framed Roger Rabbit
Judge Doom
Nominated again for a Saturn Award
Eight Men Out
Bill Burns
1989
The Dream Team
Henry Sikorsky
Back to the Future Part II
Doctor Emmett "Doc" Brown
1990
Back to the Future Part III
Doctor Emmett "Doc" Brown
DuckTales the Movie: Treasure of the Lost Lamp
Merlock the Magician
1991
Back to the Future: The Ride
Doctor Emmett "Doc" Brown
Simulator ride
Suburban Commando
Charlie Wilcox
The Addams Family
Uncle Fester Addams
1992
Amazing Stories: Book Two (TV)
Professor B.O. Beanes
T bone 'N' Weasel
William 'Weasel' Weasler
Dead Ahead: The Exxon Valdez Disaster
Frank Iarossi
1993
Dennis the Menace
Switchblade Sam
Switchblade Sam is the only character in the film never referred to by his name, and the main antagonist.
Addams Family Values
Uncle Fester Addams
Twenty Bucks
Jimmy
Won an Independent Spirit Award
1994
Angels in the Outfield
Al "The Boss" Angel
Camp Nowhere
Dennis Van Welker
The Pagemaster
Mr. Dewey / The Pagemaster
In Search of Dr. Seuss
Mr. Hunch
Radioland Murders
Zoltan: Eccentric sound designer
1995
Rent-a-Kid
Lawrence 'Larry' Kayvey
Deadly Games
Jordan Kenneth Lloyd / Sebastian Jackal
Things to Do in Denver When You're Dead
Pieces
1996
Cadillac Ranch
Wood Grimes
Toonstruck
Drew Blanc
Point-and-click adventure game
1997
Quicksilver Highway
Aaron Quicksilver
Anastasia
Grigori Rasputin
Voice talent
Angels in the Endzone
Al "The Boss" Angel
The Real Blonde
Ernst
1999
My Favorite Martian
Uncle Martin
Alice in Wonderland
The White Knight
Baby Geniuses
Heep
Man on the Moon
Actor in Taxi Re-creation
Spin City
Owen Kingston
It Came From the Sky
Jarvis Moody
2001
Wit
Dr. Harvey Kelekian
When Good Ghouls Go Bad
Uncle Fred Walker
Kids World
Leo
2002
Interstate 60
Ray
Wish You Were Dead
Bruce
Hey Arnold!: The Movie
Coroner
Cyberchase (TV)
Hacker
Voice talent
2003
Haunted Lighthouse
Cap'n Jack
Tremors (TV)
Cletus Poffenberger
2004
I Dream (TV)
Prof. Toone
Malcolm in the Middle (TV)
Hal's Father
2005
Mulan II
Lord Chin
Voice talent
Stacked (TV)
Professor Harold March
Here Comes Peter Cottontail: The Movie
Seymour S. Sassafrass
Bad Girls From Valley High
Mr. Chauncey
The West Wing (TV)
Lawrence Lessig
Portrayed the real life Lawrence Lessig
2006
A Perfect Day (TV)
Michael
Valerie on the Stairs (TV)
Everett Neely
Episode of Masters of Horror
2007
Numb3rs (TV)
Ross Moore
2008
The Simpsons Ride
Doctor Emmett "Doc" Brown
Simulator ride
Law & Order: Criminal Intent (TV)
Carmine
Episode Vanishing Act
Fly Me to the Moon
Grandpa
The Tale of Despereaux
Hovis
2009
Meteor (TV)
Dr. Lehman
Knights of Bloodsteel (TV)
Tesselink
The Call of the Wild
'Grandpa' Bill Hale
Foodfight!
Mr. Clipboard
Snowmen
The Caretaker
Santa Buddies
Stan Cruge
2010
Piranha 3-D
Mr. Goodman
Chuck (TV)
Dr. Leo Dreyfus
Episode S03E16: "Chuck Versus the Tooth"
Awards
Primetime Emmy Awards
(1982) Won - Outstanding Supporting Actor in a Comedy Series / Taxi
(1983) Won — Outstanding Supporting Actor in a Comedy Series / Taxi
(1992) Won - Outstanding Lead Actor in a Drama Series / Road to Avonlea
Saturn Awards
(1986) Nominated - Best Supporting Actor / Back to the Future
(1990) Nominated — Best Supporting Actor / Who Framed Roger Rabbit
Independent Spirit Awards
(1994) Won - Best Supporting Male / Twenty Bucks
DVD Exclusive Awards
(2001) Nominated — Best Actor / When Good Ghouls Go Bad
Daytime Emmy Awards
(2008) Nominated — Outstanding Performer in an Animated Program / Cyberchase
Drama Desk Award
(1973) Won - Drama Desk Award for Best Performance/ Kaspar
Community content is available under
CC-BY-SA
unless otherwise noted.