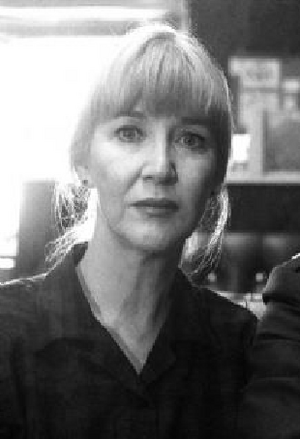 Charlotte Stewart (Nancy) was born in Yuba City, California. During her high school years, she hosted a radio show called "Teen Time" on the ABC affiliate. In the early 1960's, Stewart studied at the College of Theatre Arts in Pasadena, California. Her television credits include "The Loretta Young Show," "Bachelor Father," "The F.B.I.," "Bonanza," "Medical Center," "Mannix," and "Gunsmoke." On film Stewart most recently appeared in "Eraserhead."
Charlotte Stewart (born February 27, 1941 in Yuba City, California, USA) is an American film and television actress. She is most famous for her role as the schoolmarm 'Miss Beadle' on Little House on the Prairie and her work with David Lynch.
Stewart is a breast cancer survivor. Also, she attends Little House reunions with her former co-stars also signing and chatting with fans.
Filmography
Mayfly as Barbar
The Inner Circle Sister as Angelin
The Office: The Return asWoman at Staples
Cold Case: A Perfect Day as Cindy Balducc
Tremors: The Series as Nancy Sterngood (originally, but to a contract, she had to sign off, she was replaced by Marcia Strassman)
Puppy Love as Edna Luste
Desert Son as Audre
Slums of Beverly Hills as Landlady
Dark Angel: The Ascent as Mother Theres
Twin Peaks: Fire Walk with Me as Betty Brigg
Twin Peaks as Betty Brigg
Journey to the Center of the Earth as Mother
Warm Hearts, Cold Feet as Nurse #1
The Young and the Restless as Tamar
UFOria Brother as Roy's Girlfrien
Irreconcilable Differences as Sall
Human Highway as Charlotte Goodnigh
Buddy Buddy as Nurse
The Princess and the Cabbie as Nurse
Bitter Harvest as Mrs. Lazl
Mother, Juggs & Speed as Iri
Murder in Peyton Place as Denise Hale
Eraserhead as Mary
Secrets as Phyllis Turne
The Nurse Killer as Suzi
The Impostor as Jean Durha
Little House on the Prairie as Eva Beadle Simm
The Cheyenne Social Club as Ma
Bonanza as Lisa Campbel
They Painted Daisies On His Coffin as Anne
Lyle's Kid as Iris
Doctor, You've Got to Be Kidding as Miss Reynold
The Slender Thread as Telephone operator
V.D. as Judy Jackson
My Three Sons as Agnes Finle
Bachelor Father as Maybell
External links
Community content is available under
CC-BY-SA
unless otherwise noted.